The East Coast's FIRST "Time Based Trail Series"
Choose your distance, manage your time!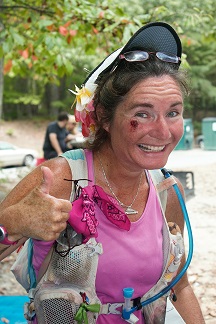 ALL PARTICIPANTS COMPLETING 4 or 5 TRAIL  EVENTS RECEIVE A FINISHERS VEST.
General Registration Information
Registration for all events will be conducted thru www.ultrasignup.com Registration for each event is done separately. This is for both Solo and Team Runners.  Registration will be available on-line and opens on 02 OCT.  As a SOLO Runner, you will be able to sign-up for each ultra independently or as part of the 2018 Athletic Equation Trail Series. The series will include: The ICY-8, The MT TAMANNY 10, 24-HR ATR, OSS/CIA 50M Night Run, and 12-HR ATR. 
About the Ultrail Series
Athletic Equation, Inc (AEI) has been hosting trail running events regionally since 2006. AEI hosts premium trail running events, while bringing awareness to State and National Parks within the states of Virginia, New Jersey, Pennsylvania, and Montana.  Generally speaking, we tend to have looped courses that ultimately benefit runners on multiple levels. Ideal for new trail runners, the centralized Start/Finish area functions as an aid station for runners as well as the location for the runner registration, awards ceremony, centralized spectator viewing area, and becomes an effective base of operation for our race management team. The participants will have the opportunity to run in Solo, 2-Person, 3-Person, or 4-Person categories. All AEI events have an onsite medical presence, on-trail Course Marshals for safety, and ALL participants are required to have hydration with them at ALL times.
Building off our successes with the 24-Hour Adventure Trail Run (ATR) and the 12-Hour ATR, Athletic Equation added the ICY-8 HR ATR in 2009 @ Lake Anna State Park. These three events, combined, will constitute the base of the 2013 AE Mini Trail Series. Starting in 2013, a fourth trail run was added.  Runners can opt for either the MT TAMMANY 10! or the OSS/CIA 50M Night Run.  The choice is yours.  Miles will be aggregated.  The runner with the most miles in four of the five races will win the series!  Team Based runners will also have the opportunity to be in any or all of the Series events.

To Participate in the AEI Ultra ATR Trail Series:
Simply sign-up for ANY or ALL the events and run. Solo runners signing up for four (4) of five (5) events will receive a technical, moisture wicking long sleeve running shirt, in addition to the technical running shirt for each event. Runners must have at least 38.5 hours of aggregate running time between their respective four events to qualify for the Trail Series finishers' vest.  Aid stops of runners of less than 20 mins will count towards running time. Runners WILL be informed of total aggregate running time upon request.  Interim results will be released after the 4th event in the trail series.  Customized finisher awards are given to all runners of each race.
Refund Policy
We will refund 50% of your race fee if a request is made prior to one (1) month BEFORE the specific event. Please check exact dates on each events' web page. After the 1 month prior date, NO REFUNDS or DEFERRALS will be provided. For Team based scenarios, Teams losing members prior to the event can pair up with other smaller teams or consult with the race directors on how they can be accommodated. Teams wanting to drop a runner and add a new runner to a Team, after the deadline, may do so but must keep the race director in the loop on such changes.
Volunteers
Volunteers are the backbone of many of our events.  Whether you are looking to support a friend, family member, looking for a community service trail time, or simply interested in learning more about ultra running, drop us a line via our volunteers page. We will take care of you!