Welcome to Athletic Equation
Welcome to Athletic Equation, Incorporated. Thank you for visiting our site. We are a woman-owned, small business based in Prince William County, Virginia. Our primary focus is to provide a platform for people to improve their individual fitness and health levels through running, and enhance our client's quality of life while having fun and raising money for charity.
Since our founding, we have expanded into three corporate thrust areas to provide a holistic approach and perspective for all clients, whether in a training session, on the road, or out on the trails. As we expanded over the years into our thrust areas, we did so based on the premise of Five Philosophical Tenants. Each are an integral part and carry equal weight in our daily business operations.
Athletic Equation, Inc was established in 2005 to focus on the improvement of individual fitness, health levels, enhance our client's quality of life while having fun and raising money for charity. Our organization is founded on trust; enhancing our teaming environment by believing and promoting honesty, integrity, personal safety, goal management and philanthropy. A strong foundation of morals and staff allow us to provide a customized corporate focus of customized fitness management plans and premier, high quality ultra-endurance trail running events.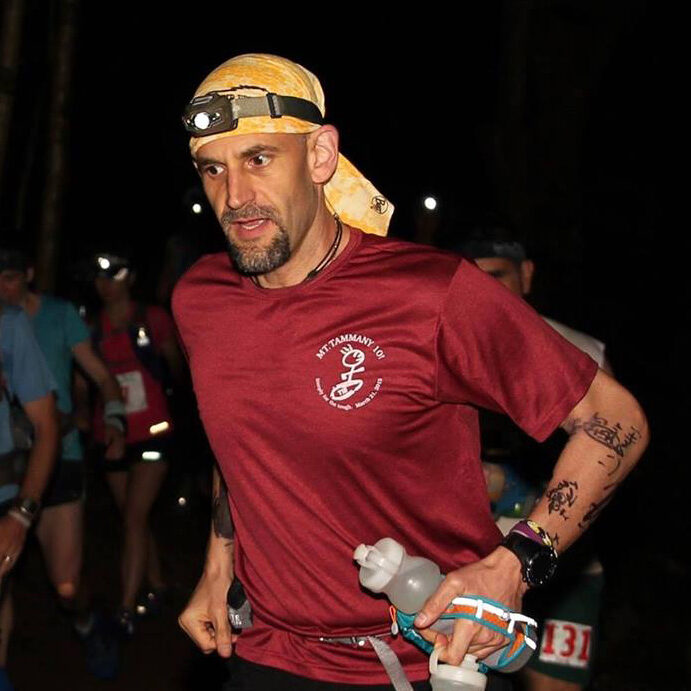 Alexander Papadopoulos
An avid runner, trail enthusiast, outdoorsman for over 20 years, Alex Papadopoulos is a seasoned veteran of over 10 marathons and 50 ultra-marathons, ranging in distances from 50K to 100M.  This includes having the most 100 mile finishes (12) at the HURT 100M, considered one of the most challenging 100 mile foot faces.  Alex specializes and enjoys creating customized training programs for runners of all capabilities. He has served on the local DC Area Leukemia & Lymphoma Society Marathon Coaching staff in the early 2000s. He was certified in 2000 as a NSPA Certified Personal Trainer, and is a certified Running Coach through the Road Runners Club of America (RRCA).  He co-owns and operates Athletic Equation, Incorporated (AEI) with Christine Papadopoulos, as a small, woman-owned business.  AEI was created to host endurance trail running events and support trail runners in the DC Metro area.  Our objective is to work with our clients to balance and integrate a running based fitness program into their lifestyle.
Before leaving the Department of Defense in 2006 to devote his time to his family and Athletic Equation, Alex served as a civilian acquisition professional for the Marine Corps for 8 years. During that time, he worked as an Acquisitions Officer in the functional areas of engineering and program management logistics for USMC procurement items.
In his spare time, Alex can be found out on solo hikes and runs in the wilderness of Shenandoah National Park exploring trails and delving into the Park's unique history.
---
Professional Run Based Coaching
Prior to being established in 2005, the founders of Athletic Equation, Incorporated's (AEI) had been providing professional and personal coaching services to a broad range to clients. Our primary goal has been to improve a client's fitness, health, and well being while enhancing their overall quality of life. We understand the busy lifestyles that many of our clients lead. We take our time to understand your personal (daily family demands, vacations) and professional (work, travel) schedule, your needs for fitness, and your aspirations towards achieving fitness goals. Each one of you is unique! We give you one-on-one attention you deserve. We seek out to create the most realistic goals fitness and programs for you. In our program planning, we focus on these ever changing variables, work with you to balance them, and give you an Athletic Equation for success. Our Programs and Packages are created to be tailored to your specific needs. We utilize the latest technologies to enhance our one-on-one coach client relationship to optimize the limit time that today's societal structure offers.
Schooled in the latest fitness and coaching principles, we offer personal and small group customized training plans, and a variety of Programs and Packages. We all have backgrounds in personal training, certified as running coaches by Road Runner's Club of America (RRCA), and have the most current CPR/First Aid training. To meet our personal coaches, please download our Personal Profiles. To view our 2011 Programs and Packages, please follow the link for details.
Additional information is available by contacting AEI with your specific question (s). Please provide as much detail as possible so we will best be able to answer your inquiry.